One of the most difficult elements to master in fashion is print mixing. It's easy to either go too overboard or play it too safe. However, mixing prints and patterns can result in stylish and eye-catching outfits when done correctly. This guide will provide some tips on mixing prints and patterns for fashionable results. You'll be a pro at mixing prints like a stylist with a little practice!
How do you style prints and patterns?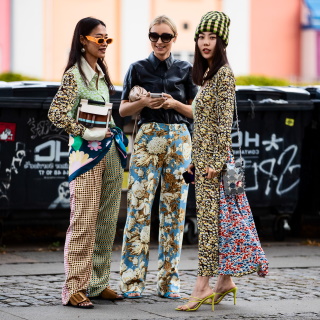 When it comes to patterns and prints, more is more. Mixing and matching different designs is such a fun and creative way to put together an outfit. But if you've never mixed prints before, the idea might seem a little daunting. Luckily, there are easy ways to mix and match different patterns without looking like a fashion disaster.
To start, pick two or three colors that will work well together. For example, you could choose a black-and-white print, a floral pattern, and a stripe in shades of blue. Once your color palette is selected, it's time to start mixin' and matchin'!
One easy way to mix patterns is by pairing a small print with a larger one. For example, you could wear a polka dot blouse with a floral skirt. Or, try pairing a striped top with a leopard print bottom.
Another fun way to mix patterns is by mixing different textures. For example, you could pair a chiffon dress with a leather jacket. Or, try a cotton tee with a velvet skirt.
Of course, you don't have to limit yourself to just two patterns. You can also mix and match three or more! Just make sure the overall look is balanced and not too overwhelming.
The biggest trends in clothing prints and patterns
There's no doubt that prints and patterns have a moment in the fashion world. From delicate florals to bold abstract designs, there's a print or pattern to suit every style. But with so many different prints and patterns to choose from, it can be hard to know which ones are right for you.
To help you make sense of it all, we've rounded up some of the biggest clothing prints and patterns trends. So, whether you're looking for something girly or edgy, there's sure to be a trend here that catches your eye.
Floral Prints
Floral prints are always popular in the spring and summer months, but they're huge for fall and winter. So, if you're looking for a way to add a feminine touch to your wardrobe, go for a floral print. You can find them in dresses and skirts to tops and jackets.
Polka Dots
Polka dots are another classic print that's always in style. They're perfect for adding a bit of fun and whimsy to any outfit. You can find polka dot prints on all sorts of clothing, from shirts and blouses to skirts and dresses.
Leopard Print
Leopard print is one of the most popular animal prints around, and it's not hard to see why. It's chic, sophisticated, and can be dressed up or down depending on how you style it. If you're looking to add a bit of wildness to your wardrobe, go for leopard print.
Stripes
Stripes are another classic print that never goes out of style. You can find them in dresses and skirts to tops and pants. Stripes are perfect for creating a nautical or preppy look or adding a bit of edge to your outfit.